The Future of Patient Safety
.
By Tommy Malone

Malone Law Office
The battle to deny victims of medical carelessness access to the court system rages on as Tort Reform advocates continue to demand an overhaul of the current civil justice system. They claim the current system increases the cost of healthcare, pointing to costly liability insurance and defensive medicine as primary causes.
For more than 40 years, I have followed this intense effort for Tort Reform, which consistently focuses on limiting the rights of patients and seldom recognizes the obvious problem—medical carelessness! Reducing medical errors will reduce medical injuries. The rate of hospital-acquired infections can be dramatically reduced if healthcare providers simply wash their hands between patients. [1] Fewer infections means less money spent treating those infections. Even the Institute of Medicine, which is the health arm of the National Academy of Sciences, has shown medical mistakes have a direct and tremendous impact on the increasing cost of health care in America. [2]
In 2010, President Obama's healthcare package included passage of the Patient Protection and Affordable Care Act (PPACA), which provides millions of federal dollars in the form of grant money to states for the development of qualifying "alternatives to current tort litigation for resolving disputes over injuries allegedly caused by health care providers or health care organizations." [3] The Federal Act allocates $50 million dollars over a five-year period to help states set up pilot programs using alternative ways to resolve medical injury disputes. [4] This is in addition to $23 million dollars disbursed in 2010 by the Agency for Healthcare Research and Quality for similar projects. [5] These alternative resolution programs often involve prompt disclosure by the provider, an apology, expedited investigation, and some compensation. [6] Such expedited programs can bypass protections of the civil justice system and give undue power to those with interests contrary to those of seriously injured patients. Without adequate safeguards, these programs have the potential to permit manipulation of medical injury victims and their families.
This fight for alternative forms of adjudication for patients injured by medical carelessness also wages heavy in state legislatures. While PPACA at least requires pilot programs include "opt out" provisions allowing patients to pursue litigation in lieu of the alternative program, [7] one plan recently introduced in Florida as House Bill 1233 (FHB 1233) does not. This plan is being pushed in Florida and Georgia by businessman Richard L. Jackson of Jackson Healthcare. [8] Florida's proposed "Patient Compensation System" is a process whereby injured patients apply to an appointed panel of individuals from the medical community to hear medical malpractice cases. [9] The proposal is clearly not a "no fault" plan as medical injury or disease due to some failure on the part of a healthcare provider is a prerequisite to compensation of any amount. [10] My experience convinces me health care providers cannot be trusted to "heal thyself." Once a medical review panel determines a medical injury has occurred, and after all appeal options have been exhausted by the healthcare provider, then the patient victim will be compensated according to a predetermined schedule of payments applicable to the type of injury suffered. [11]
Florida House Bill 1233 claims to provide patients with "fair compensation – quickly, and more of it," but even a cursory review of the proposed legislation reveals fundamental problems. All collateral source payments are subtracted from any award of compensation [12] and no bad faith claims against insurance companies are allowed. [13] Primarily, the proposed Patient Compensation System is far from patient friendly. The System's governing board would be responsible for "approving a schedule of compensation for medical injuries, as recommended by the compensation committee" and "annually approving provider contribution amounts" to the System. [14] The politically-appointed governing Board would be comprised of 11 members, only two of whom would be patient advocates. Seven others would include healthcare provider representatives, accountants, an executive from the business community and one lawyer. [15] The President of the Senate and the Speaker of the House appear to be free to make one appointment each without regard to profession or experience. [16] Attorneys are expressly prohibited from serving on the two basic committees: Medical Review and Compensation. [17] Such a governing Board cannot be expected to protect injured patients with only two politically-appointed patient advocates, and significant potential for self interest and political influence over the determination of liability and the amount of any compensation. [18]
Florida's proposed Patient Compensation System eliminates accountability for healthcare providers. The legislative intent of FHB 1233 declares that injured patients' applications for review, and the actions taken thereon, do not constitute a claim for medical malpractice which would be reportable to the National Practitioner Data Bank. [19] A recent study has shown that as many as one-third of hospital admissions result in medical errors. [20] While some may argue an alternative means to adjudication for medical negligence cases would encourage providers to report errors, comparative studies show this is not to be expected. [21] A system that eliminates accountability for medical mistakes creates opportunity for an increase in medical errors, which leads to increased costs to patients, providers, and insurers. On the bright side, FHB 1233 does require all health care providers to complete a two-hour course on prevention and communication of medical errors on an annual basis when renewing their licenses. [22]
The most concerning aspect of FHB 1233 is the "exclusive remedy" provision, which prevents injured patients from pursuing their claims outside of the proposed System. This alone is contrary to the express provisions of PPACA. [23] The exclusive remedy provision, in combination with the mandated compensation schedule, is merely a guaranteed means to caps on damages and deprivation of a patient's right to trial by jury.
Proponents of such alternative adjudication programs cite malpractice litigation and defensive medicine as reasons for the rising costs of health care. However, physicians who claim the cost of malpractice litigation is driving them out of practice because they are "going broke" should look to shrinking insurance reimbursements and poor business management. [24] Defensive medicine is a label often used to mask the reality that physician offices benefit financially as more tests and treatments are ordered. Medicare and Medicaid have historically paid providers on a fee-for-service basis, which increases profits when more tests and evaluations are ordered. [25]
Healthcare provider accountability and improvement in patient safety will not be well served by a quick and limited compensation process that brushes negligence under the rug. Any system which seeks to compensate those with less than severe injuries can do so only at the expense of the most severely injured. It would be wonderful if a plan could be devised where all patients suffering medical injury had an opportunity to be made whole. Today, only patients with severe injuries are able to find a lawyer to represent them, so many of those with meritorious claims go uncompensated. A system controlled by the medical and business communities providing patients with less than full compensation is not a road to improved quality of health care or reduction in medical errors. Our civil justice system sets our great country apart from all others. Reform accomplished by reducing medical errors, improving patient safety and increasing quality of care will naturally lead to a system with less litigation.
Footnotes
[1]See e.g., Keith L. Cummings et al., Hand Hygiene Noncompliance and the Cost of Hospital-Acquired Methicillin-resistant Staphylococcus Aureus Infection, 31 Infection Control and Hosp. Epidemiology 358, (2010).
[2]See generally, Institute of Medicine, To Err is Human: Building a Safer Health System (Linda T. Kohn et. al. eds., Nat'l Acad. Press, 1999).
[3]Patient Protection and Affordable Care Act, Pub. L. No. 111-148, 124 Stat 119 (2010); 42 U.S.C. § 280g-15 (2010).
[4]Allen Kachalia & Michelle M. Mello, New Directions in Medical Liability Reform, 364 New Eng. J. Med. 1564, 1564-72 (2011).
[5]Id.
[6]Id.
[7]42 U.S.C.A. § 280g-15(c)(2)(G)(2010).
[8]Kyle Wingfield, An Idea to Tackle Tort Reform, Defensive Medicine in Georgia, Atl. J. Const., Dec. 1, 2011.
[9]H.R. 1233, 114th Gen. Assem., Reg. Sess., 6, 16 (Fla. 2012).
[10]H.R. 1233, 114th Gen. Assem., Reg. Sess., 5 (Fla. 2012).
[11]Id. at 19, 22.
[12]Id. at 22.
[13]Id. at 9.
[14]Id. at 22.
[15]Id. at 10-11.
[16]Id. at 11.
[17]Id. at 14-15.
[18]Amy Widman, Liability and the Health Care Bill: An "Alternative Perspective," 1 Cal. L. Rev. 57, 61 (2010).
[19]H.R. 1233, 114th Gen. Assem., Reg. Sess., 9, 23 (Fla. 2012).
The National Practitioner Data Bank (NPDB) is a federally-mandated repository of all payments made on behalf of healthcare practitioners in connection with medical liability settlements or judgments, as well as adverse peer review actions against licenses, clinical privileges, and professional society memberships.
[20]Center for Justice & Democracy, Fact Sheet: Recent Medical Malpractice Studies, May 1, 2011, http://centerjd.org/content/fact-sheet-recent-medical-malpractice-studies.
[21]Widman, supra, at 59.
[22]Fla. House Bill 1233, at p. 3
[23]42 U.S.C.A. § 280g-15(c)(2)(G)(2010).
[24]Parija Kavilanz, Doctors Going Broke, Jan. 5, 2012, http://money.cnn.com/2012/01/05smallbusiness/doctors_broke/index.htm?hpt+hp_t3
[25]Id.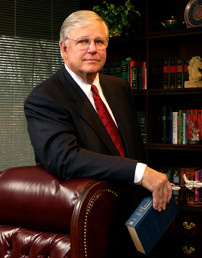 Thomas "Tommy" Malone is the founder of Malone Law in Atlanta, Georgia. For more than 40 years he has litigated cases involving catastrophic personal injury and wrongful death throughout the State of Georgia. He has obtained a multitude of jury verdicts in excess of one million dollars, including a record-setting $45 million verdict, which changed the way managed care providers operate. In 2009, he obtained a verdict in excess of $49 million in San Jose, California, for a 23-year old pre-med student who suffered traumatic brain injuries as the result of a tractor-trailer wreck. Tommy is the former President of the American Board of Professional Liability Attorneys, the official certifying body sanctioned by the American Bar Association for certification of competency in handling professional negligence cases.
Tommy is a recognized pioneer in obtaining just awards for victims of careless physicians, tractor-trailer drivers, pilots, as well as the manufacturers of dangerous products.
Some of Tommy's Honors and Achievements include: Tradition of Excellence Award, State Bar of Georgia, 1999; Best Lawyers in America, All Editions, 1989 to Present, Cover Spotlight, 2009, 2011; Georgia's Super Lawyers, All Editions, 2004 to Present, Highest Vote Recipient, 2009 to Present, Cover Article, 2010; Pursuit of Justice Award, American Bar Association/Tort Trial and Insurance Practice Section, 2004; Trial Lawyer of the Year, Melvin M. Belli Society, 2001; Compassionate Gladiator Award, Florida Justice Association, 2009; Warhorse Award, Southern Trial Lawyers Association, February 1996; STLA has honored Tommy by naming an annual award after him—the Tommy Malone Great American Eagle Award; Trial Lawyer of the Year, American Board of Trial Advocacy, Georgia Chapter, 1995; and 2009 recipient of the "Mel Award" from the Melvin M. Belli Society.
---