In It to Win It – Lessons from the Courtroom
.
By Darren W. Penn
Harris Penn Lowry LLP
One of the questions most often asked by law students and young lawyers is, "What does it takes to win in court?" My initial response is that I could literally spend all day talking about success and failure in trials. However, my answer always ends up the same: It takes a lot of different things coming together that, even when all are properly employed, still does not guarantee success. After trying somewhere in the neighborhood of 100 jury trials (who is counting?), I have found there are a few constants for success in the courtroom:
Be yourself.
Observing other lawyers in the court and even studying trial footage gathered by sources such as Courtroom View Network can be invaluable resources for learning the fundamentals of trying cases and even what obviously works or does not work. We all want to be Clarence Darrow or Perry Mason. But, it is a mistake to try and copy how other lawyers talk or act in a courtroom. Ultimately, you have to develop your own style, your own pace and your own approach to trying a case. Authenticity is a must in court and you simply cannot be authentic when you are trying to be someone else.
Be credible.
Trials are all about credibility – credibility with the judge, the jury and opposing counsel. Before you open your mouth to speak, you better be sure you are right. There is nothing worse than getting your facts wrong, objecting at inappropriate times, incorrectly citing the law to the judge, etc. Know your case and the law so thoroughly that you establish yourself as a resource for the judge. When the judge asks a question you should have the correct answer, and if you do not, do not be afraid to simply tell the judge you do not know the answer. Judges do not want to hear made up facts or arguments made on the fly without the benefit of valid law or thought behind them. Prove you are a helpful and accurate resource in sorting through the facts of your case, not a hindrance. And remember, the jury is watching your every move!
Be organized.
Know where your documents and other evidence are at all times; ensure your courtroom technology is working flawlessly and that your full trial team is on the same page – working seamlessly together in court. Do not forget that the trial is a production: it is your production of the telling of your client's story. If you want success, your production has to be solid, seamless, and professional. It is often painful to watch lawyers fumbling around, trying to find supporting documents or exhibits. Don't let that be you. Practice, practice, practice before stepping into a courtroom full of people.
Be conversational.
You can be the most pedigreed lawyer in the room, have the best arguments and a fancy technical presentation, but if you cannot have a conversation with folks, you are going to find it hard to win. Period. To succeed in any trial, you have to tell a story, you have to connect with the jury and you have to have a conversation that can relate with the most important people in that courtroom.
Choose clients carefully.
Think long and hard before you take on a client and his/her case, especially if you know you are likely headed to trial. Remember, credibility is key. There can be significant backlash from juries when presented with clients or issues that have even a hint of so-called "frivolous litigation." Carefully vet your clients and their reasons for employing the legal system. In my opinion, clients most often win cases, not the lawyers. The lawyers can go a long way in messing up the production if they get in the way of their clients and their story. Work to ensure yours are credible, can connect with the jury, are able to join with you in telling their story and are just all-around good people who need representation in a court of law.
Plan for disasters.
As much as possible, always have a contingency plan for every scenario you can imagine. Be able to give your opening cold without any exhibits if that is what the judge decides, have back-up exhibits if your technology decides not to cooperate that day, if possible, try your cases with a partner so you can back each other up, even keep an extra suit in the car – you never know when a wardrobe malfunction may occur or coffee will end up on your shirt. Be prepared because the unexpected will happen at some point. That is pretty much a guarantee. You want to sail through those challenges without a hitch.
Never let them see you sweat.
At all times, keep your cool. You cannot communicate effectively if you allow yourself to get flustered for any reason – opposing counsel, the judge, witnesses or sorting through documents. No matter what, remain calm and in charge in the courtroom and never, ever let them see you sweat!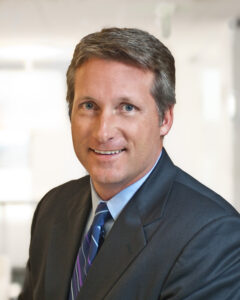 Darren W. Penn, Harris Penn Lowry LLP, handles a wide variety of tort and business litigation in state and federal courts across the United States. His practice ranges from extensive products liability, trucking and auto collisions, wrongful death, medical malpractice and aviation to business tort, entertainment and intellectual property cases.
Darren is the incoming president of the Georgia Trial Lawyers Association (GTLA), past president of the Georgia State Bar's General Practice & Trial Law Section – known as "Georgia's Largest Law Firm," the past Chair of the Civil Justice PAC of Georgia where he still serves on the Board, past Legislative Co-Chair for GTLA, is a long-time member of GTLA's Executive Committee, and served as Co-Chair of the popular Auto Torts Seminar for more than 10 years.
Residing in Atlanta with his three beautiful children and two dogs, when not working, Darren can most often be found cheering on his kids at any number of sporting events or cheering on his beloved Georgia Bulldogs. Go Dawgs!
To learn more about Harris Penn & Lowry, click here.